The Royal Family Pack pack comes with one King, Queen and Princess Spud. It has two big potatos and one little potato. The set includes:
Two pairs of eyes and nose joined together.
One pair of normal eyes
Three mouths.
One normal nose
Four ears
Four normal arms
Queen hat with hair
One Crown
Jester Staff and arm
One hat
Frog arm
One Royal Cloak
Three pairs of shoes
One moustache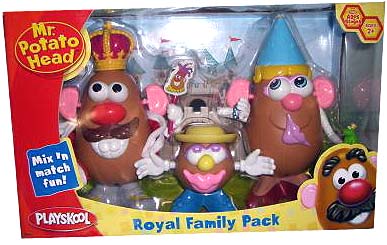 Potato Heads
Edit
Ad blocker interference detected!
Wikia is a free-to-use site that makes money from advertising. We have a modified experience for viewers using ad blockers

Wikia is not accessible if you've made further modifications. Remove the custom ad blocker rule(s) and the page will load as expected.