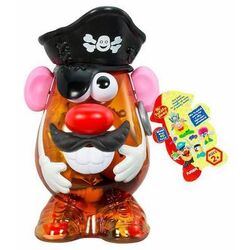 Board the pirate "chip" to find sunken taters on Treasure Island! "Fin"-tastic mermaids abound, but beware of Captain Fry Cook, puds who cross him walk the plank! Turn four ordinary "potatoes" into creative characters, like a pirate, a mermaid a toucan, or another fabulous creation from your imagination! With four potato bodies and more than 45 mix-and-match accessories, you have plenty of parts to create all sorts of wacky looks! Includes 2 potato bodies, 2 mini potato bodies, 4 pair of eyes, 2 noses, beak, moustache, 4 ears, 3 mouths, 8 arms, 2 pairsof shoes, parrot, sword, pirate hat, eye patch, pirate earring, hook, pair of boots, wand, crown, tail, shell waistband, sea horse, pair of earrings, soft bandana,and feather.
Ad blocker interference detected!
Wikia is a free-to-use site that makes money from advertising. We have a modified experience for viewers using ad blockers

Wikia is not accessible if you've made further modifications. Remove the custom ad blocker rule(s) and the page will load as expected.