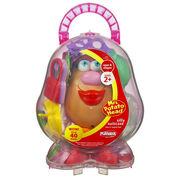 The Mrs. Potato Head Silly Suitcase is a Silly Suitcase for Mrs. Potato Head.
Similar to how the Mr. Potato Head Silly Suitcase has parts to make Mrs. Potato Head, you can make Mr. Potato Head with this one.
Potato body comes with 4 ears, 4 pairs of eyes, 1 set of teeth, 4 mouths, 3 tongues, 5 noses, 2 pair of sunglasses, 2 earrings, 2 flowers, 2 arms, 3 handbags, 1 pair of feet, 2 pairs of shoes, 1 flower hat, 1 ribbon hat, 2 wings, 1 pair of bunny slippers, 1 visor and carry case.
Ad blocker interference detected!
Wikia is a free-to-use site that makes money from advertising. We have a modified experience for viewers using ad blockers

Wikia is not accessible if you've made further modifications. Remove the custom ad blocker rule(s) and the page will load as expected.