Bumble Spud was released for Transformers Revenge of the Fallen.
Popular TRANSFORMERS BUMBLEBEE character is brought to "life" -- spud style! Mix and match body parts to create lots of fun looks!The wacky spud you know and love is back -- and ready to roll out! Mix and match his parts and accessories to create the beloved TRANSFORMERS BUMBLEBEE character -- spud style! This fry guy is ready to do battle -- or just make you laugh with hours of mix-and-match fun! Potato body comes with 1 pair of eyes, nose, teeth, 2 ears, right arm, left arm, mouthpiece, chest plate, right door, left door, and 1 pair of shoes.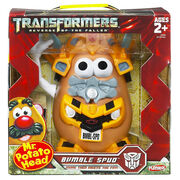 Ad blocker interference detected!
Wikia is a free-to-use site that makes money from advertising. We have a modified experience for viewers using ad blockers

Wikia is not accessible if you've made further modifications. Remove the custom ad blocker rule(s) and the page will load as expected.